Cool under pressure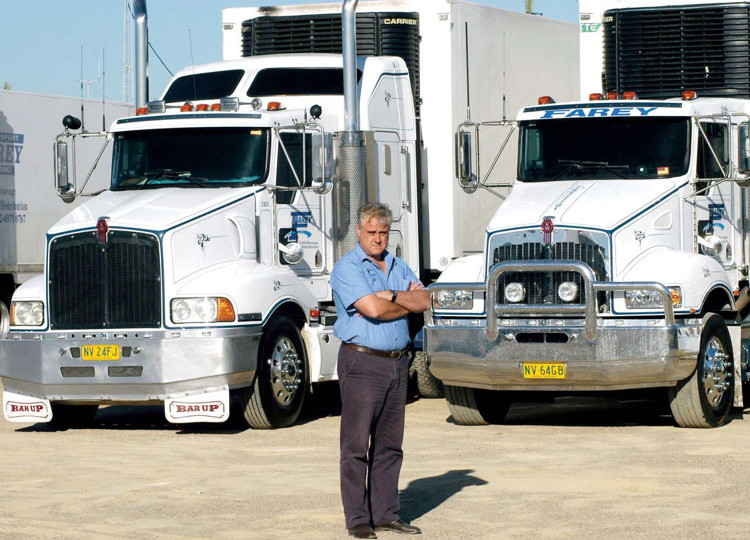 Farey Transport and Trading owner Warrick Farey with a Kenworth T401 and a T350.
NOBODY could ever dispute Warrick Farey's hard work and commitment to getting where he is today.
The owners of Wagga-based Farey Transport and Trading Pty Ltd, Warrick and Yvonne Farey have built their business to a successful refrigerated transport and distribution operation.
It is true many businesses experience tough times ... but it's how they bounce back from adversity which can bemost impressive.
And such is the case with Warrick and Yvonne who started out in business back in 1989 loading sub-contractors out of the local abattoir.
The business grew substantially and two years later Warrick bought his first truck - an ex-Ansett Kenworth Slimline - with a positive feeling about the future of the business. But what he didn't see coming soon after was a ruthless bid by two major transport companies on his only two contracts.
Warrick felt the full wrath of big business and lost both contracts within a fortnight of each other. "That hits you very hard" Warrick said.
"We had two young children and had to put food on the table ... so it was back to splitting and cutting firewood just to buy the groceries."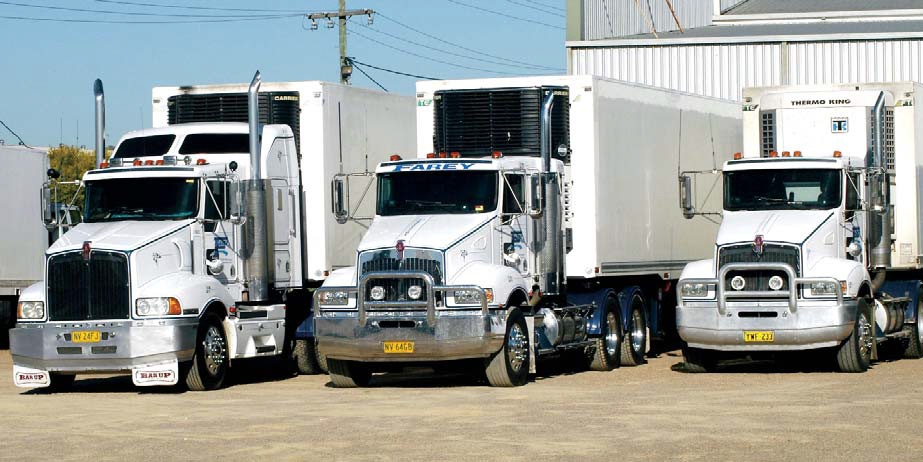 Farey Transport and Trading's T401 (left) and two of the four T350s which belong to a fleet of 14 trucks operating out of the refrigerated transport and distribution company's Wagga headquarters.
Determined not to give up on his business dreams, Warrick bought a small truck to do door-to-door deliveries of refrigerated parcels around town. The business continued to grow and Warrick, now a much wiser businessman for his past experiences, saw great potential in the industry.
Today Farey Transport and Trading operates a fleet of 14 trucks and employs 22 people in the transport and distribution of frozen, chilled and dry goods. The depot operates 24 hours, 5.5 days a week.
The trucks cover the Riverina, ACT and Upper Murray and two of the six Kenworths do linehaul between Sydney and Melbourne.
"We've grown dramatically in the past six years," Warrick said.
"What we do, we do well ... but it hasn't happened overnight. It's taken 17 years and we've still got a long way to go."
Warrick selected Kenworth trucks to carry out the bulk of his transport and distribution.
His Kenworth fleet comprises a K104 Aerodyne cabover (his favourite), a T401 and four T350s. He said for a good looking truck matched with performance, you couldn't go past Kenworth.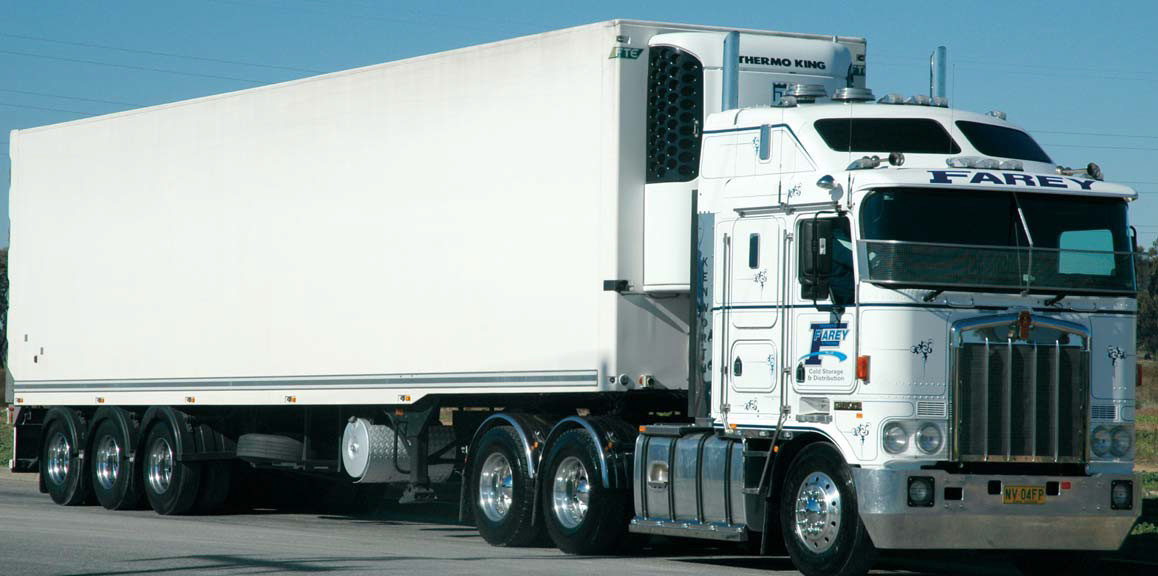 The Kenworth K104 Aerodyne cabover is Warrick Farey's favourite. He says Kenworth trucks are the best when it comes to looks and performance.
Kenworths are what I call a 'proper truck'," Warrick said.
"They look and work like a truck is meant to."
"I cut my teeth on Kenworth when I worked in Sydney and saw a lot of Kenworths doing a good job for a lot of people for a long time ... they're just so reliable and I like the look of them."
Warrick also enjoys the attention to detail and easy access to Inland Truck Centre's service department in Wagga.
"Daryl (Rynehart) the service manager is fantastic to deal with when it comes to servicing and he and his team do a good job" Warrick said.
"In this industry, you're only as good as your last load. You have to dot the i's and cross the t's. Inland Truck Centres do this for us."
"The back-up and support is terrific."