DAF quietly launches new 510hp version of CF85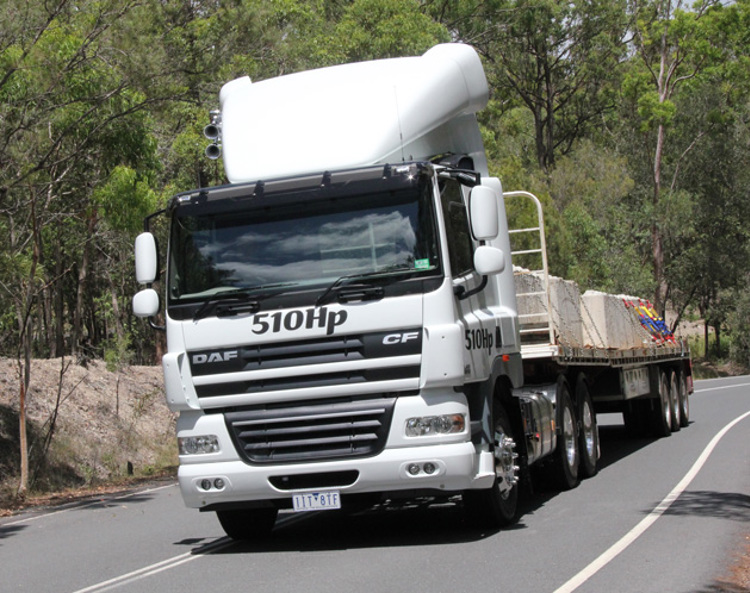 Almost lost in the buzz surrounding the launch of the new Kenworth T610, PACCAR Australia has quietly introduced a 510hp version of the DAF CF85 model.
Known as the MX375 due to its 375kW output, the higher rating of the 13-litre PACCAR MX 13 engine has been available for some time in the Kenworth T409 range as well as DAF's flagship XF105 model.
New Zealand already has this latest specification, too, and when fitted to the CF85, the engine will produce the same 2,500Nm of torque that are available in its PACCAR stablemates.
Maximum power is developed between 1,500rpm and 1,900rpm, with top torque output available from around 1,000rpm. To maximise the advantage of the additional 50hp, the 510 DAF is equipped with a 16-speed ZF ASTronic Automated Manual Transmission (AMT) instead of the 12-speed that is standard fare for the 460p engine, which will continue to be available.
Any fine-tuning of the integration of the mature driveline and braking technologies to suit Australian conditions should have already been achieved in the other PACCAR trucks with the same specification, so the 510hp version of the CF85 is expected to work seamlessly from the get-go.
PACCAR is hoping to position the CF85 as a contender for the Australian B-double market due to the 500+hp rating and the extra gear ratios.
"The CF has been a good seller here in the 460hp spec for mainly for single trailer work and we are now very pleased to be able to offer the truck with a 510hp rating," Brad May, PACCAR's Director of Sales and Marketing, told CRTNews.
"This adds another option to our line-up and presents a significant opportunity for PACCAR."
Source: primemovermag.com.au
http://www.primemovermag.com.au/news/article/daf-quietly-launches-new-510hp-version-of-cf85?utm_source=CRT+News&utm_campaign=760c1499b7-CRT_News_10_2_2017&utm_medium=email&utm_term=0_e4236cba80-760c1499b7-59720981