Kenworth is King - no argument!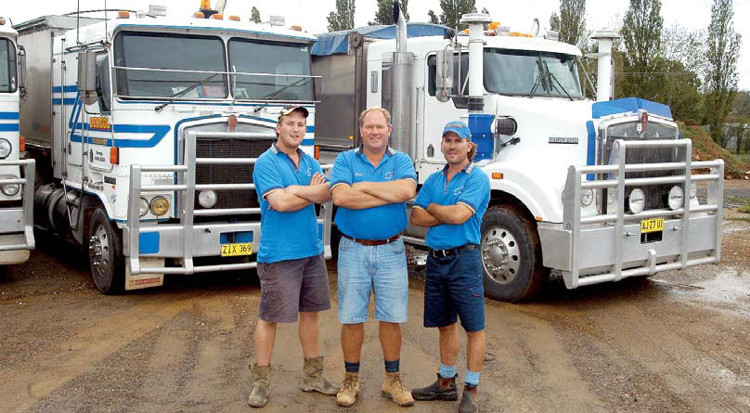 THREE OF A KIND: Denis Onley with his sons Lachlan, 21, (left) and Guy, 25 ... between them they own four Kenworth trucks.
There's nothing like keeping Kenworth in the family … it avoids all arguments, according to Orange businessman and truck operator Denis Onley.
When Denis and Colleen Onley's two sons, Guy and Lachlan, bought their own Kenworths to operate out of the family sand and soil business, they thought it was worth a look themselves.
Denis, who operates Dencol Transport Pty Ltd, admits he always liked Mercedes Benz and was even considering another Freightliner as his next purchase – that was until the boys stepped in to have their say.
"They wouldn't let me buy anything but a Kenworth," Denis said. "Their trucks were doing the job better than anything else and they basically insisted I buy a Kenworth."
Denis now owns two Kenworths – a T401 and a new T404-SAR he bought last year – which operate throughout the Central West between the sand and soil yards at Orange and Forbes.
"Now we have four Kenworths doing all of our work and I'd have to say I'd never go back … and we all agree on that!," Denis said.
"I'd prefer a 10-year-old Kenworth to a four-year-old of any other brand. The quality of the product, its ability to get the job done, availability of parts if you ever need them … you have it all in this brand of truck."
The Onley family boasts a diverse business background in the Orange district which goes way back when Denis' father Reg, and grandfather Lesley, worked as bakers in the area.
In 1960, Reg Onley opened a baking facility which then made headlines as "the largest bread baking facility in provincial New South Wales".
The bakery employed 40 people and owned a fleet of delivery vans. Onley's Bakery has since had various owners and is today owned by Tip Top Bakeries.
After selling the bakery, Reg Onley made a move into trucks and supplying sand and gravel from a pit on the Burrendong Road, using two 8-tonne Bedfords and a Massey frontend loader.
Denis joined his father in the business and later started Dencol Transport (trading as Dencol Sand and Soil) and bought his first truck – a K Series Bedford – in 1974.
"We've come a long way from those days," Denis said. "It's been an enjoyable journey and now I'm looking to step back a bit and let the boys take a greater role in running the day-to-day business."