NEW TRUCK DELIVERY - Jaricks Haulage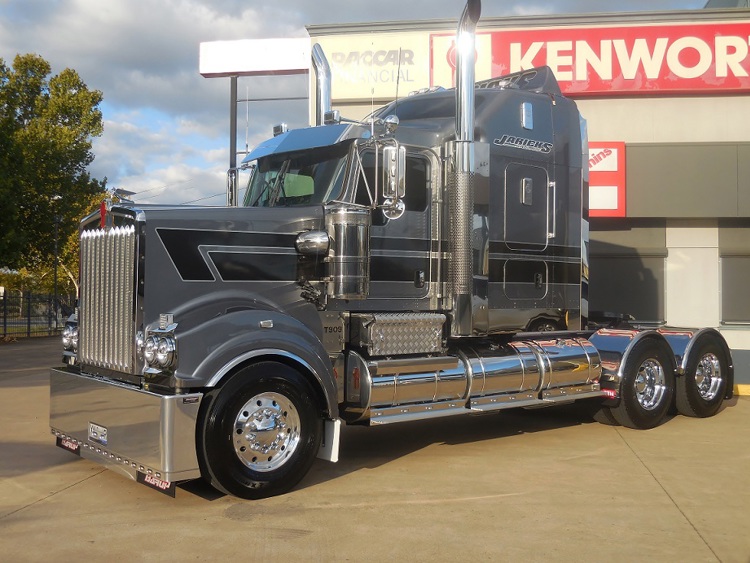 When the Jarick Brothers talk about wanting to design and develop a new truck you know it's going to be mint!
They have a genuine passion for the transport industry and know it's very important to be professional, reliable and well-presented. The boys had a good idea of what was required for the job and knew that the KenworthT909 represents their aesthetic and values.
Peter and Craig are old school operators who want to run the best equipment available, so the only choice was a Kenworth – Built tough to withstand the toughest Australian conditions.
This stunning truck, with its classic clean lines and styling, has been customised by Peter and Craig combining Chris' extensive industry knowledge.
Jaricks trucks always have a striking appearance and this one is no different! With the carbon steel grey colour accented with Black signwriting it will be a standout on the roads and of course the Chrome accessories and trim always add another level elegance to any truck.
The team at Inland Truck Centres have worked closely with our valued suppliers to deliver this beauty. Featuring A custom tank package BY RC Metal Craft, Custom Heritage gauges, TV, Fridge. Microwave and inverter by DMG Truck electrics. A Massive Bullbar by Bar-Up and Sign writing by Auto FX.
The cab is decked out with everything you could need or want including leather seats!
Congratulations to Peter and Craig on the delivery of your new truck!
Thanks for trusting Inland Truck Centres and Kenworth to deliver this amazing truck!
Truck sold by Chris McDevitt.