NEW TRUCK DELIVERY - Mal Bassett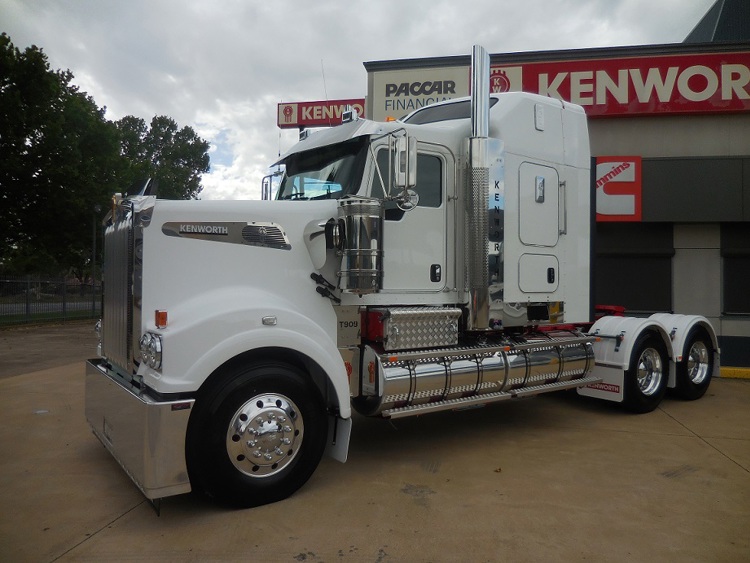 In recent years a lot of the Australian based manufacturing has moved off shore or closed down, which is why Kenworth prides itself on being made right here in Australia. This year is an impressive milestone – it's the 50th anniversary of Kenworth production here in Australia. To mark this occasion, every new truck this year that rolls off the line will be fitted with the limited edition Gold Kenworth Bug. When you choose a Kenworth you have the peace of mind knowing you are keeping Australians in jobs and supporting our manufacturing industry.
Our first truck to be delivered that has come off line this year is a sleek T909 for Mal and Dallas Bassett. The classic styling of the T909 has the special pop of bling with its gold bug badges.
There is chrome for days on this truck! Texas Bar by Bar-Up Bullbars. Drop visor from RC Metalcraft. Grille bars and massive 7" pipes.
Other stand out features are custom Lights installed by Star Auto Electrical, Viessa by Truck Art and PTO Hydraulics from Nixons Wagga.
It may have been a very stormy day in Wagga but that did not dampen Mal's Spirit!
Thanks for choosing the Kenworth and trusting Inland Truck Centres for your new truck purchase.
Truck sold by Chris McDevitt.