NEW TRUCK DELIVERY - Trevor and Sandra Whatman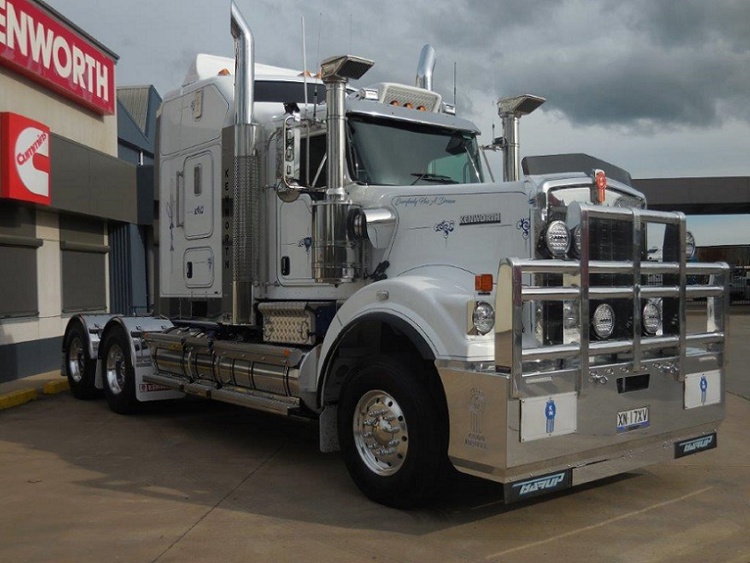 New truck delivery for Trevor and Sandra Whatman
Trevor Whatman knows the tipper game and loves to roll his sleeves up and just get the job done, reliable and no fuss.
This reflects in the style of truck that Trevor wanted to purchase, no excuses and capable of taking on any task.
The mighty Kenworth C5 was the perfect fit, Legendary toughness, Cummins X15 at 600 hp, 22 series road ranger, 50k Meritor diffs with twin locks, newway suspension, slipper front suspension, dual rails, Electronic stability, trailer response management.
Combined with all the comforts for those long stints away, coolabah air con from Truck art, TV, microwave, invertors, diesel heater from DMG auto electrical, the list goes on.
Finished with an old school line and scroll job from Auto FX and additional chrome and lighting from Rc metalcraft and DMG auto electrical, huge 5 post bullbar from Bar up. Quad set of Narvas from Star Electrical.
Trevor has built himself a truck that will stand up to any task and survive year after year and the job will be done in comfort and style.
Inland truck centre would like to thank Trevor and Sandra for trusting us to build Trevor's dream truck.
Truck Sold By Chris McDevitt