Tumut Freight Service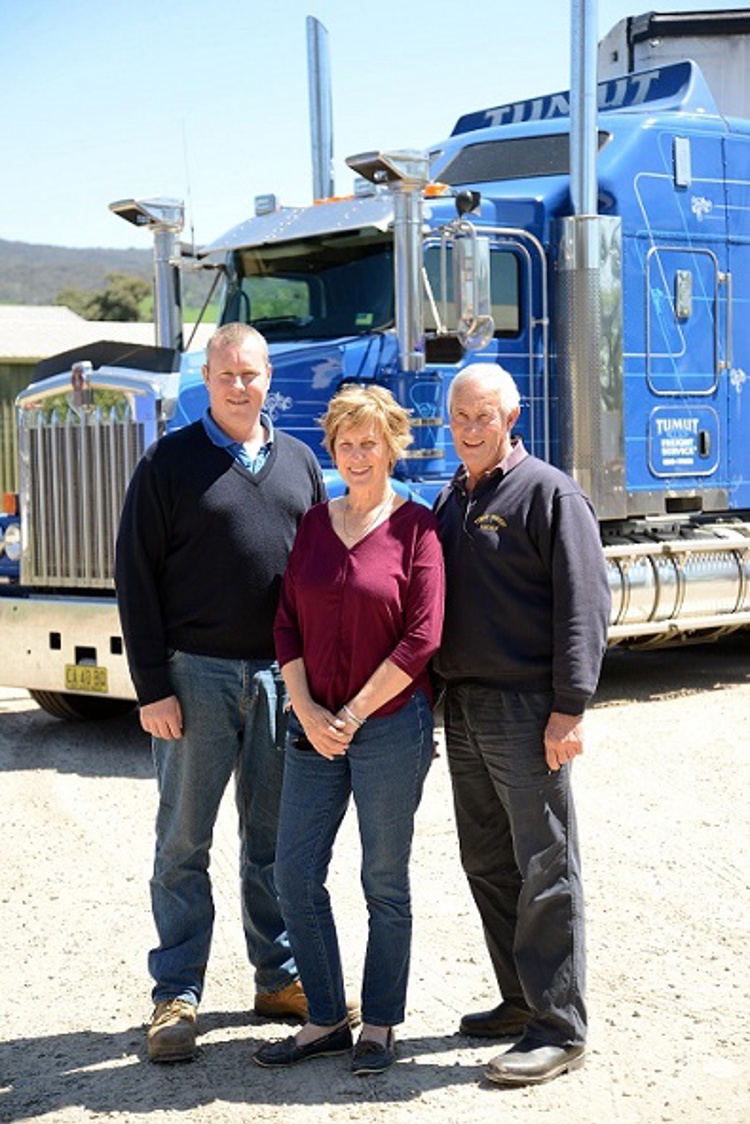 Transport and logistics flows deep in Michael Lucas' veins. It's in his blood - part of his DNA.
Riding high in the seat of his brand new Kenworth T409 prime mover in Tumut, Michael knows he was destined for a career in the industry.
Michael studied graphic design at university and was on the cusp of a national representative equestrian sporting career, but still the dynamics of transport and the lure of diesel drew him closer to the now third-generation family business Tumut Freight Service.
"My grandfather on mum's side was employed by Qantas in catering logistics. He was chosen by Qantas to be on board their first ever 747 jumbo they flew" And my other grandfather operated tippers and then a small freight and parcel service ... that was the seed for the business we are growing today.
"All of this today is a natural progression for the family."
Michael is the third generation Lucas family member to offer a freight service out of Tumut.
And it's all happening on the back of a transport marque synonymous with the Australian road freight industry. Kenworth is playing a significant part in the recent growth of the business
"We can't speak highly enough of the Kenworth brand and the service from Inland Truck Centres," Michael said.
"The quality is in the build ... we get the reliability Kenworth offers and excellent fuel economy from the Cummins E5 engine, which is important, to any business operating in a tight margin industry. The trucks are 'specced' perfectly for us, with Eaton ultra-shift transmissions coupled to the Cummins E5 engine - the drivers love them, especially in the city. They're easy to drive and very comfortable."
"Keeping our drivers happy is another important component in choosing Kenworth, they love them and take great pride in them. We have excellent staff across the business and they all certainly contribute to what is Tumut Freight Service."
Tumut Freight first bought Kenworth trucks in 2007, two T350 rigids and added a T358 a year later. The business maintained a measured growth and with more demand from national clients the need for prime movers was apparent and the company purchased a new T409SAR in 2014.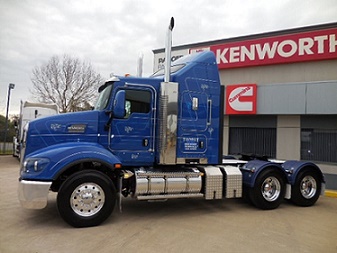 The latest delivery, two T409 Kenworths from Inland Truck Centres in Wagga Wagga has taken the prime mover fleet to six, dominated by the four Kenworths.
"We've always been new truck buyers," Michael said. It's been a gradual expansion to get to this stage but Kenworth has been the right fit for our business.
"We had Japanese trucks before that and turned them over after four years but never got a great trade. When we looked into it and did the maths, Kenworth gave us a much better return in so many ways."
Michael's grandfather Brian Lucas Snr operated a tipper and carted corn and peas to the Mountain Maid cannery in Batlow. In 1978 he took over a general freight business and ran it until 1991 when he retired. At that time his son Brian together with his wife Christine (Michael's parents) moved their family from Camden to Tumut and took on the family business.
When Michael was just 10 years old, Brian (Michael's father) who had a distinguished career in the NSW Police Force, starting in the Mounted Unit, decided his time in the force was up when this new opportunity called.
The family moved to a 40 acre farm on Batlow Road and continued their great love of horses and equestrian events.
In their leisure time, equestrian remains pivotal to the Lucas family's way of life - and even now Michael and Tracey's children are entrenched in pony club and equestrian events continuing the family tradition.
"Mum and Dad were right into equestrian," Michael said.
"Dad was on the longlist for the team to ride for Australia at the 1984 Los Angeles Olympics but his horse got injured and that was it."
While studying graphic design at Charles Sturt University in Wagga, Michael couldn't stay away from the horses and got heavily involved in the equestrian facility based at CSU.
His riding ability and equine knowledge was up there with the best, and his Olympic moment came in 2000 in Sydney with an opportunity to prepare horses for the Modern Pentathlon event.
"We took the horses to Sydney and did a demonstration round over the course in front of all the competitors to show them that each horse was of equal standard," Michael said.
"It was a pretty special time ... riding in front of all those world-class competitors was something I look back on and treasure."
In 2001 he went on to win a State Championship and was named NSW Young Rider of the year, progressing to compete at World Cup level - the highest competition outside the Olympics - and trained in Holland for three months in 2004.
Now with four T409 prime movers - the latest delivered in September this year - Michael knows a champion when he sees it.
And adding the Kenworth to his expanding stable has everyone at Tumut Freight Service champing at the bit for bigger and better things to come.