Western Grains Rural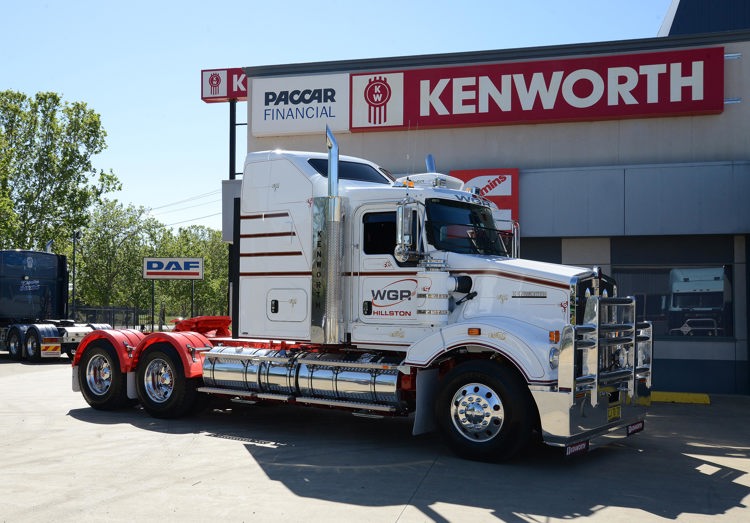 John Fitzgerald is a big fan of Kenworth trucks.
In the past few months he has had two T409SARs delivered and has another three T610SARs on order. He wants all of his seven trucks to carry the Kenworth marque and "can't wait" for that to happen.
"The sooner the better," he said.
"We've got a few other trucks around the place and it'll be good to see them gone and we'll be running with Kenworth for our B-doubles and road trains."
John started Western Grains Rural 29 years ago when an arm injury forced him to give up work as a shearing contractor.
He came to Hillston 30 years ago as a shearer and soon after moved in a new direction into the grain trading industry.
John owns and operates Western Grains Rural at Hillston – a grain trading business which has endured the highs and lows of a volatile agricultural industry.
"We've got a good business going here," he said.
"We only run seven trucks and soon enough they'll all be Kenworth's.
"You need to have your own gear when you're this far from anywhere … if you haven't got that, you're not reliable – and Kenworth gives us that reliability."
John said his trucks are rotated every five years to ensure he is running the best gear.
"After that five years you still have a good truck," he said.
"Even if you decide to rebuild the engine, you've still got a decent truck around it which hasn't shaken to pieces".
"We don't see these Kenworth's in the workshop too often … trucks don't make money sitting in a workshop."
John deals with Chris McDevitt at Wagga's Inland Truck Centres branch.
"Inland Trucks Centres have been great. Chris has always backed me up on product and service and looked after me … you can't ask for more than that, we've always got what we've asked for in the trucks and the after-sales service is spot on."
And the next few months can't roll around quickly enough for John.
"We've got three more Kenworth's on order … I can't wait to get them here."